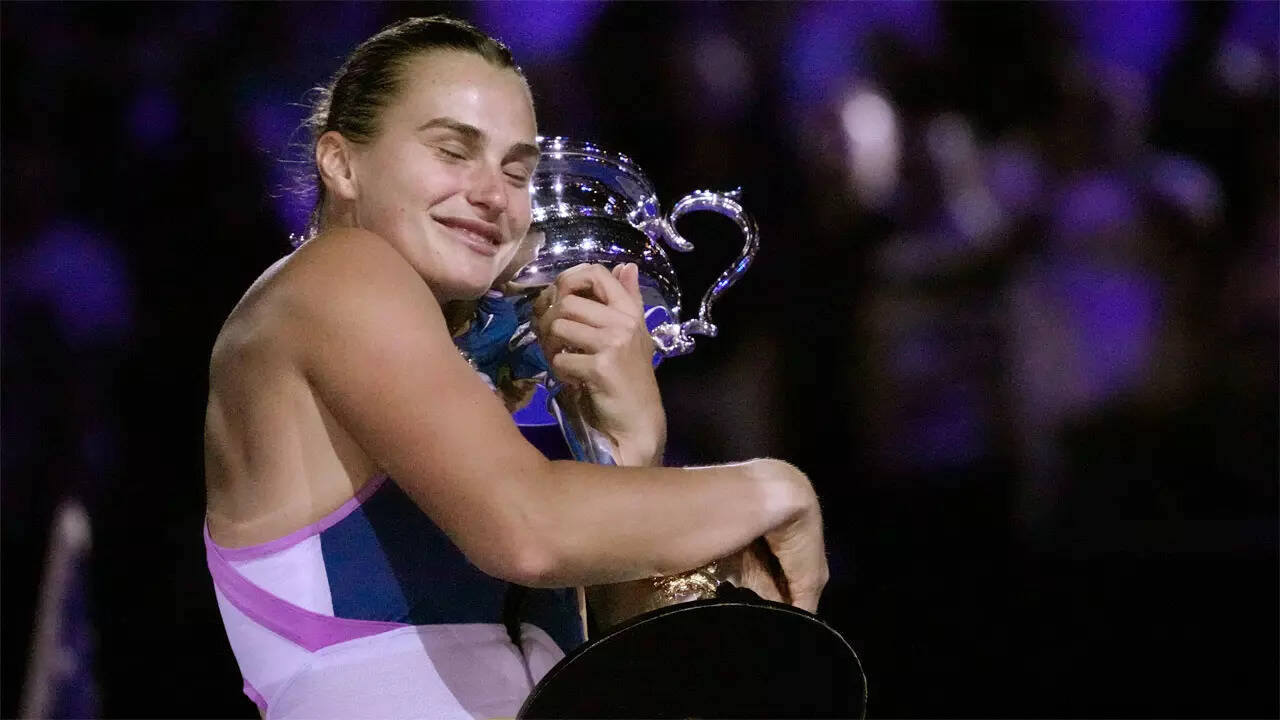 NEW DELHI: Aryna Sabalenka clinched her maiden Grand Slam title in an incredible come-from-behind win over Wimbledon champion Elena Rybakina in the Australian Open women's singles final on Saturday.
The 24-year-old registered a 4-6, 6-3, 6-4 win over the Kazakh 22nd seed Rybakina in a thrilling final between two of the most exciting power-hitters in the women's game at the Rod Laver Arena. The finale between Sabalenka and Rybakina lasted close to two and a half hours.
Queen of Melbourne ?#AusOpen • #AO2023 https://t.co/GZzseuGcCQ

— #AusOpen (@AustralianOpen) 1674906506000
There's nothing like your first Grand Slam singles title ?@SabalenkaA • #AusOpen • #AO2023 https://t.co/O48azgVzWu

— #AusOpen (@AustralianOpen) 1674906122000
An 11th straight win of the year also means the Belarusian will return to a career-high ranking of number two behind Iga Swiatek, reaping the rewards of her improved mental stability and service to emerge as a genuine threat in big tournaments.
New best friend ?@SabalenkaA • #AusOpen • #AO2023 https://t.co/mETse087Jk

— #AusOpen (@AustralianOpen) 1674906257000
How about a round of applause for one superb Grand Slam final ?#AusOpen • #AO2023 https://t.co/jQyoVcwCTr

— #AusOpen (@AustralianOpen) 1674906170000
With Russian and Belarusian players only allowed to compete as individual athletes without national affiliation at Melbourne Park due Moscow's invasion of Ukraine, Sabalenka also became the first neutral athlete to win a major.
She dropped to the floor in delight after securing the win and walked up to Rybakina's side of the court to give her a hug before climbing up to embrace her emotional entourage in the players' box.
"Thank you so much for an amazing atmosphere," said Sabalenka, who received the trophy from former world number one Billie Jean King. "And of course my team, the craziest team on tour, I would say. We've been through a lot of downs last year, we worked so hard."
The legendary @BillieJeanKing passes Daphne to @SabalenkaA ?#AusOpen • #AO2023 https://t.co/TGdV0Qjteh

— #AusOpen (@AustralianOpen) 1674905906000
"I hope next year I come back and I show you even better tennis, and you guys support me even more," she added.
Russian-born Rybakina went up 3-1 with a comfortable hold after fifth-seed Sabalenka dropped her serve with a double fault and sent a forehand long, but the Kazakh came under pressure and allowed her opponent to level the opening set at 4-4.
A simply sensational final ?#AusOpen • #AO2023 https://t.co/cjBcQNmGIk

— #AusOpen (@AustralianOpen) 1674905516000
Rybakina hit back immediately, however, turning up the heat in gusty conditions at Rod Laver Arena to grab another break as Sabalenka double-faulted for a fifth time, and going on to seal the set with a big serve the Belarusian returned into the net.
It was the first time that Adelaide champion Sabalenka had dropped a set in 11 matches this year and the nerves began to show just a bit, before the 24-year-old composed herself and saved two breakpoints in the opening game of the next set.
Sabalenka then found a bit of consistency to break but had to overcome a wobble to grab a 4-1 lead after which she let out a huge roar and levelled the match with her 11th and 12th aces to take the match at Melbourne Park to a third set.
Sabalenka served with venom and hammered deep returns in the decider to punch holes through Rybakina's defence for a 5-3 lead. She then double-faulted on one matchpoint and squandered two more before finally prevailing to claim the Daphne Akhurst Memorial Cup.
"I would like to congratulate Aryna.. I know how hard you have worked for that," said Rybakina. "Hopefully we're going to have many more battles.
This moment ?@SabalenkaA • #AusOpen • #AO2023 https://t.co/HlaKVY8ajY

— #AusOpen (@AustralianOpen) 1674905438000
"I had goosebumps when everyone was cheering for us.. I'm looking forward to coming back next year.. It was an amazing two weeks for me and hopefully I'm going to have the same results and even better."
(With inputs from Reuters)