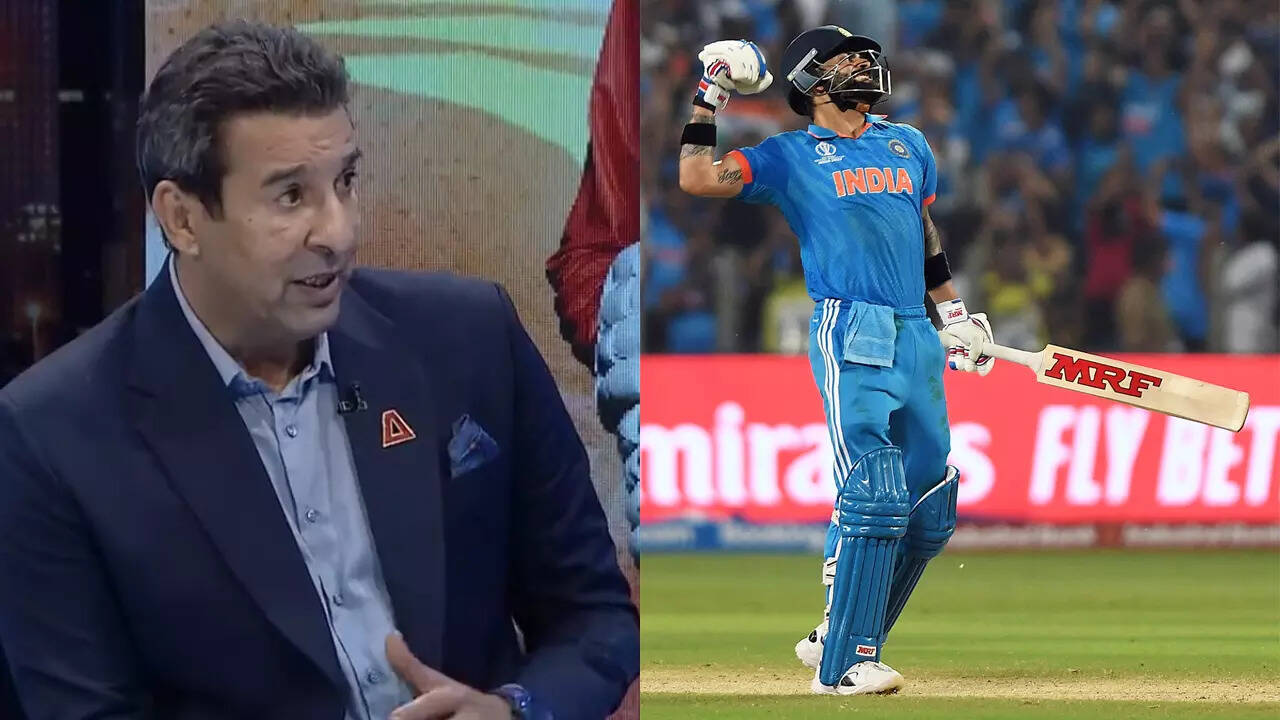 NEW DELHI: The expert opinions may have been divided over
Virat Kohli
's approach to get to his hundred during the World Cup match against Bangladesh on Thursday but former Pakistan skipper
Wasim Akram
extended his support to former India skipper for completing his 48th ton in ODIs.
The controversy revolved around Kohli's choice to decline singles as he approached his century, leading some critics to accuse him of favoring his individual milestone at the expense of the team's requirements.
"He (Kohli) fielded for the first 50 overs, and then, in the 90th over of the match, he took back-to-back twos. That shows his fitness, that shows that this guy is from another planet. They were winning pretty easily, century ho rahi hai toh hone do (if the century can be completed, then do it)," Akram said during a show on Pakistan news channel 'A Sports'.
KL Rahul, was Kohli's partner in the middle during the closing stages of India's win over Bangladesh, also said after the match that he urged the former skipper to go for the hundred because victory was in sight for India.
ICC World Cup 2023: Virat Kohli slams 48th century as India beat Bangladesh
"He was confused actually. He said 'it will not look nice to not take a single. It's still a World Cup, still a big stage. So I don't want to look like I want to get to the milestone (century)'," Rahul had said after the match while talking to Sanjay Manjrekar on live broadcast.
Rahul also shared his reply to Kohli.
"I said '(I know) it (the match) is not won, but we will still win this quite easily. So if you can get to the milestone, why not! You must try'," said Rahul.
Kohli's unbeaten 103 guided India to a seven-wicket win over Bangladesh and left him in sight of Sachin Tendulkar's record for one-day international hundreds.
He faced 97 balls, including six fours and four sixes, with this century his third score in excess of fifty in four innings following contributions of 85 and 55 not out over Australia and Afghanistan.