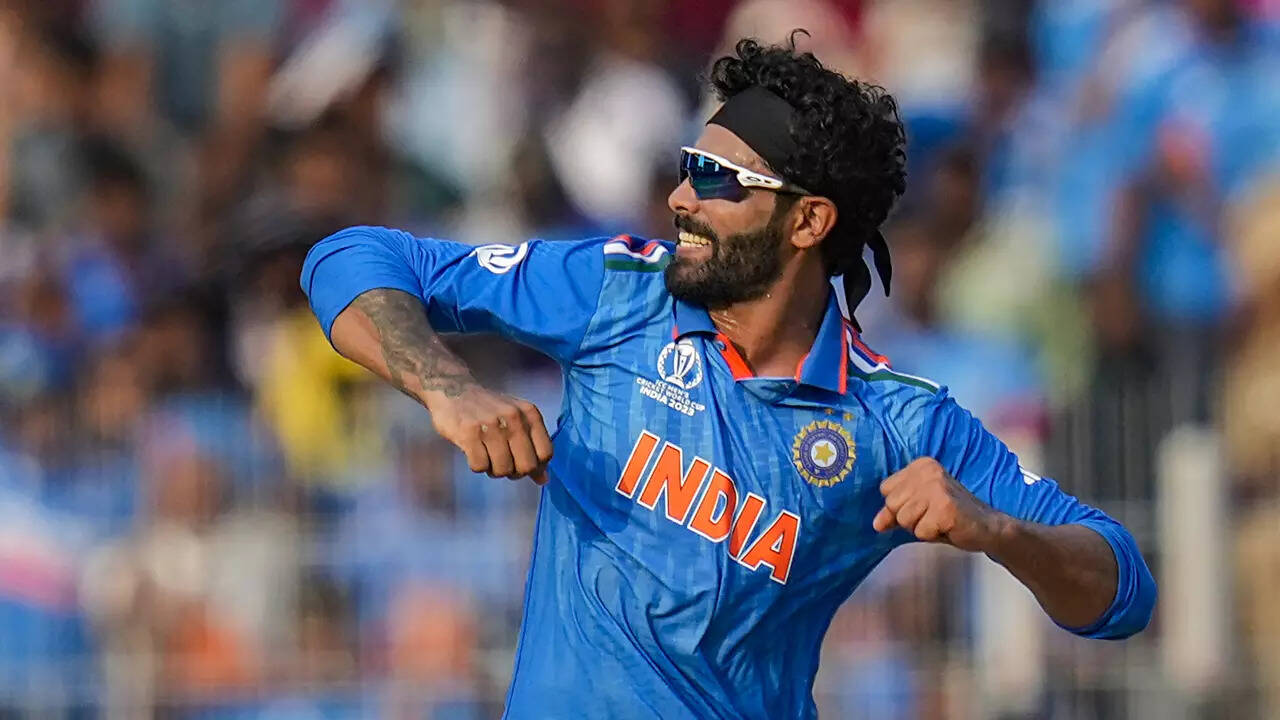 NEW DELHI: India's star spinner,
Ravindra Jadeja
, celebrated a significant victory over cricket giants Australia, attributing the win to a surge in team confidence as the
World Cup
campaign commenced. The host nation secured a commanding six-wicket triumph over the five-time World Cup champions, Australia, in a high-stakes match that unfolded in Chennai, marking their inaugural fixture of this prestigious tournament.
Jadeja, who played a pivotal role in India's success, claimed figures of 3-28 with his adept left-arm spin, substantially contributing to Australia's dismissal for a modest total of 199.While India's run chase saw an initial top-order wobble, with the team losing three crucial wickets for a mere two runs, they ultimately surpassed the target with 52 balls to spare.
"It feels nice to beat a big side, and the confidence is good. To beat Australia, and there are few other good sides in the World Cup, to beat them is good. I will not say that things would be easy against others, but if you win against three, four big teams, then the confidence is different," Jadeja said after the match, expressing his elation.
Australia opted to bat first, navigating challenging hot and humid conditions, but they suffered an early setback as they lost a wicket. Nevertheless, David Warner (41) and Steve Smith (46) orchestrated a solid recovery, stabilising the innings before India's spin maestros sprang into action. Kuldeep Yadav dispatched Warner, while Jadeja outfoxed Smith with a delivery that spun sharply away from the right-hander.
Jadeja, reflecting on the pivotal moment when Smith's wicket fell, asserted, "From then onwards, it was not easy to come and rotate the strike for the new batters. I think that wicket was the turning point. So from there, they were 110-3 to 199 all out."
Jadeja received invaluable support from his fellow spinners, with Kuldeep Yadav registering figures of 2-42 and Ravichandran Ashwin contributing with 1-34. Regarding the roles played by the spin trio, Jadeja humorously quipped that their primary objective was to take wickets on a pitch that offered substantial turn. "There is no specific role. It was about getting as many wickets as quickly as we could," Jadeja explained with a cheerful demeanour.
In India's successful pursuit of the target, Virat Kohli (85) and KL Rahul (97 not out) played instrumental roles, forging a remarkable 165-run partnership. This came after India faced a dramatic top-order collapse, losing three of their key batsmen for ducks, including skipper Rohit Sharma.
IND VS AUS World Cup Thriller: Kohli-Rahul's record 4th wicket partnership powers India to 6 wicket victory
Jadeja, appreciative of Kohli and Rahul's contribution, commended their composure and wealth of experience, stating, "Three wickets down, there was panic. But we know Virat and Rahul, they have been doing this for the team for so many years. They played brilliantly. They knew the conditions well. It was amazing to see."
India's confidence-boosting victory over Australia has set a promising tone for what is anticipated to be a thrilling World Cup tournament. The team is now focused on maintaining their winning momentum as they prepare to face other formidable opponents in the competition.
(With inputs from AFP)