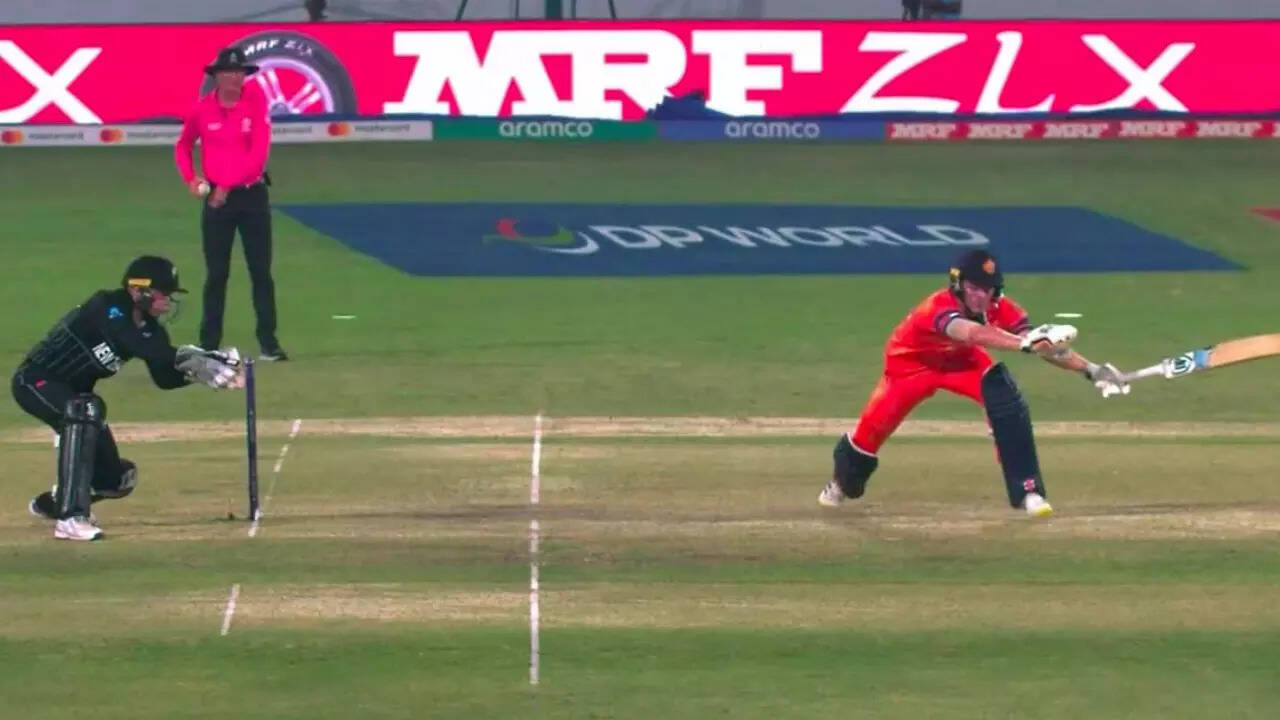 NEW DELHI: In an unusual and bizarre turn of events, third umpire Joel Wilson's no-ball decision came under criticism during the New Zealand-Netherlands World Cup match in Hyderabad.
The incident took place in the 41st over of the Dutch chase when ODI debutant Sybrand Engelbrecht came down the track against Rachin Ravindra and the bowler bowled the delivery wide outside off and keeper Tom Latham was quick to whip off the bails.
While the on-field umpire declared the delivery as wide, the stumping was referred to the third umpire.
It seemed umpire Wilson made a mistake while ruling the stumping from Latham as no-ball after keeper seemingly grabbed the ball in front of the stumps.
The replays also showed that the ball was collected just behind the stumps but despite watching several replays, umpire Wilson ruled in favour of the batter.
"Take it back, it looks like he has collected the ball in front of the stumps," he said during the review. I'm checking, where are the gloves when he is collecting it? He's not wholly behind the stumps, so I have a no-ball and the batsman will be not out," Wilson was heard saying before giving his final decision.
Soon after the ball was declared a no-ball and Engelbrecht got a lifeline, former New Zealand keeper and commentator Ian Smith lashed out at the decision on-air.
"Well, I've got to say, as a former wicketkeeper, that's the most bizarre thing I've ever seen," he said. "That is just crazy. When the ball went into the gloves, they were clearly, clearly behind the stumps. They might have been initially in front, but when the ball went into the gloves, clearly behind the stumps. Look at the gloves there. Are you telling me it's a no ball?" Smith said on-air.
However the Law indicates that Wilson was indeed right in making the decision.
The wicketkeeper Law 27, clause 27.3 that deals with what position the gloveman must take, says, "The wicketkeeper shall remain wholly behind the wicket at the striker's end from the moment the ball comes into play until a ball delivered by the bowler touches the bat or person of the striker or passes the wicket at the striker's end or the striker attempts a run. In the event of the wicket-keeper contravening this Law, the striker's end umpire shall call and signal No ball as soon as applicable after the delivery of the ball."
While commentating, Smith also did concede that initially Latham's gloves might have been in front of the stumps, which indicates that Wilson did right thing in ruling the delivery as no-ball.