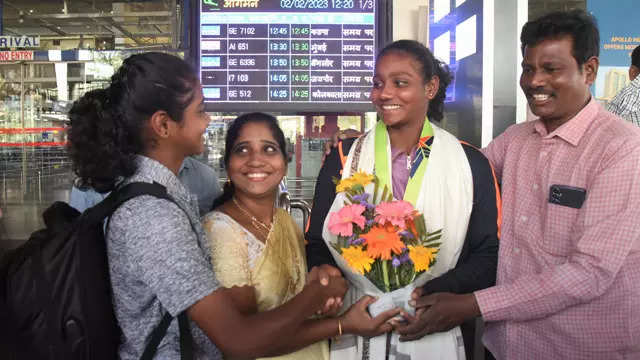 HYDERABAD: Fast and furious is Shabnam's mantra in life. The 15-year-old pacer from Visakhapatnam got to play only two games in the U-19 T20
World Cup
, which India won, but the tall and well-built teenager has all the qualities to bloom into a world class player.
Until 2021, she was playing at the district-level, but things turned that season. She represented the state for the first time in the 2021-22 season and caught the imagination with her ability to bowl at 110 kph. She was drafted into the India U-19 squad for the New Zealand home series and soon found a berth in the World Cup squad – at 15 she was one of the youngest in the Indian squad. Shabnam clocks 116 kph now and with experience, she is bound to become a better bowler.
Cricket runs in her blood as her father, who is a leading firefighter at INS Kalinga, too is a fast bowler who plays club cricket. Shabnam's younger sister Shahjahan Begum is a U-15 Andhra player.
In fact, Shabnam was drawn to the game by watching her father play. "My daughter one day told her father that she wanted to play cricket and he was more than delighted to hear it. We joined her at the Nagaraju Academy, and she was eight years old then," her mother K Eswaramma, who works in the navy, told ToI. This was in 2015 and since then Shabnam has been steadily marching up the stairs.
Md Shakil has played a key role in Shabnam's growth. "He guides her in all matters. He watches her matches and after coming home, he points out the mistakes she made and then helps her rectify those mistakes," Eswaramma said.
There were challenges to surmount for the inter-faith couple. "We were questioned about our decision to put the girls into sports as they said there was no future for girls and instead, they should be educated and get jobs. But my husband was firm in his decision. When the girls started playing, there were very few opportunities for them in cricket, but things have started looking up in the last few years. But still a lot of awareness needs to be created before more girls take up the sport," she said.
"We wanted them to be healthy and active and that was the motivation to put them into sports. We thought it would be good for the girls to be active, and playing a sport will also help them be more focused and develop qualities which will help them later in life. We never thought that the girls would one day become professional cricketers," she added.
The biggest challenge now for Shabnam is her Class X exams. "She has a camp coming up and I am not sure how it will work out. We have to see if she can write her board exams. But cricket is the focus now and her studies can wait," the mother said.